If you haven't made your Samsung AR Emoji yet, it's actually a lot of fun — all the ways you can make it unique, express your personality and style, add it to texting and social media, and show it off. Your Samsung avatar can be like another you that exists online. It's the future, and it's now.
Is creating and personalizing your Samsung avatar hard? No, it's simple, exciting, and rewarding. You can make him or her look exactly the way you want. Change your hair. Wear the most stylish brands. Turn your AR Emoji into stickers and GIFs for texting. Even put the AR Emoji into photos and videos.
Here are the basics.
Make Your First Samsung AR Emoji
First, get to your AR Emoji Camera area. One way is to open your Camera app. Then, to the right of the "Photo" button, find a "More" button, and click on it. Then, click into the AR Zone and into the AR Emoji Camera option. Follow the screenshots below: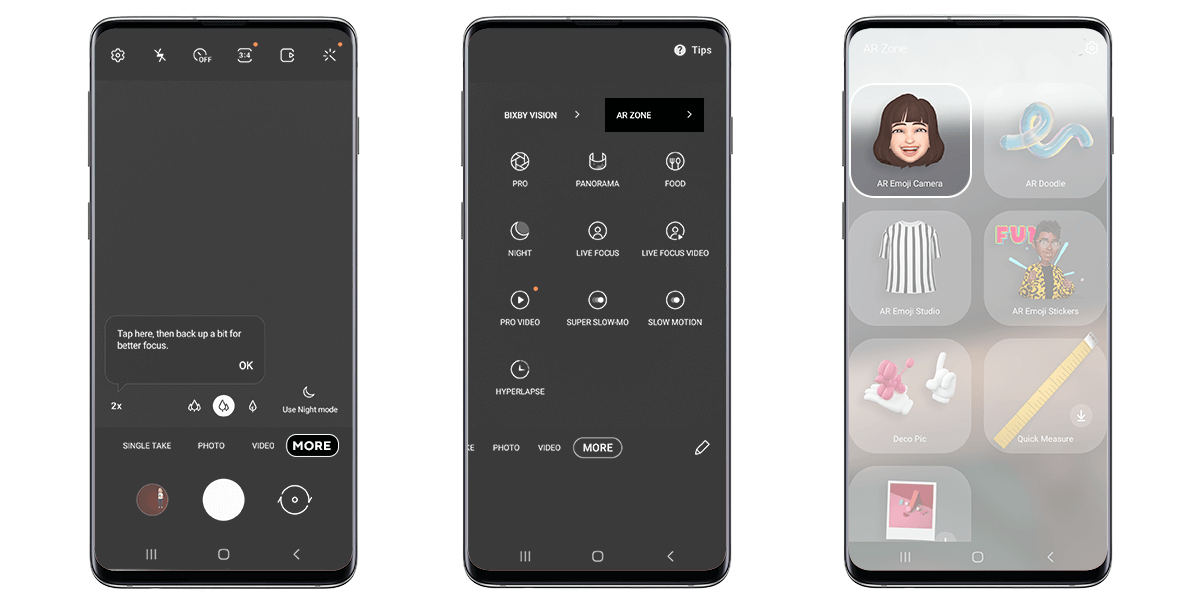 In here, click the + button to make a new Samsung avatar of yourself. The avatar creator will ask you to take a photo of your face. Get in good light so it can see all your features! Next, choose from options like gender, age, and body type. (Different phones have different options.) Then, click Next to let your phone finish creating your AR Emoji.
Tweak it to get it just right, using the available buttons on your phone. For example, you can click on:
Face: Change your hair, facial hair, face shape, eye shape, eye brows, nose, lips, ears, and freckles.
Clothes: Put on the top, bottom, shoes, and/or outfit you want.
When you're happy with what you've captured and have made all of your personal emoji settings selections, simply hit Next. As your phone finishes your avatar, it will make a bunch of stickers using his or her current look.
Your phone may have a "Give Makeover" option to change your avatar's clothes and overall look later. But you can also make more than one avatar for different moods or settings—when you're happy, when you're down, at school, on vacation, and more. When you open AR Emoji Studio, just choose which avatar you want to use.
Texting With Your AR Emoji
Your Samsung AR Emoji deserves some action. When you text your friends and family in the Messages app, click on Stickers, then Emoji to add your avatar to messages.
Your AR Emoji will automatically be in his or her own GIFs. These can say a lot. But you can also express yourself by improving them. Simply go back to the AR Zone, and click AR Emoji Stickers. Then, go into a sticker, and select Edit.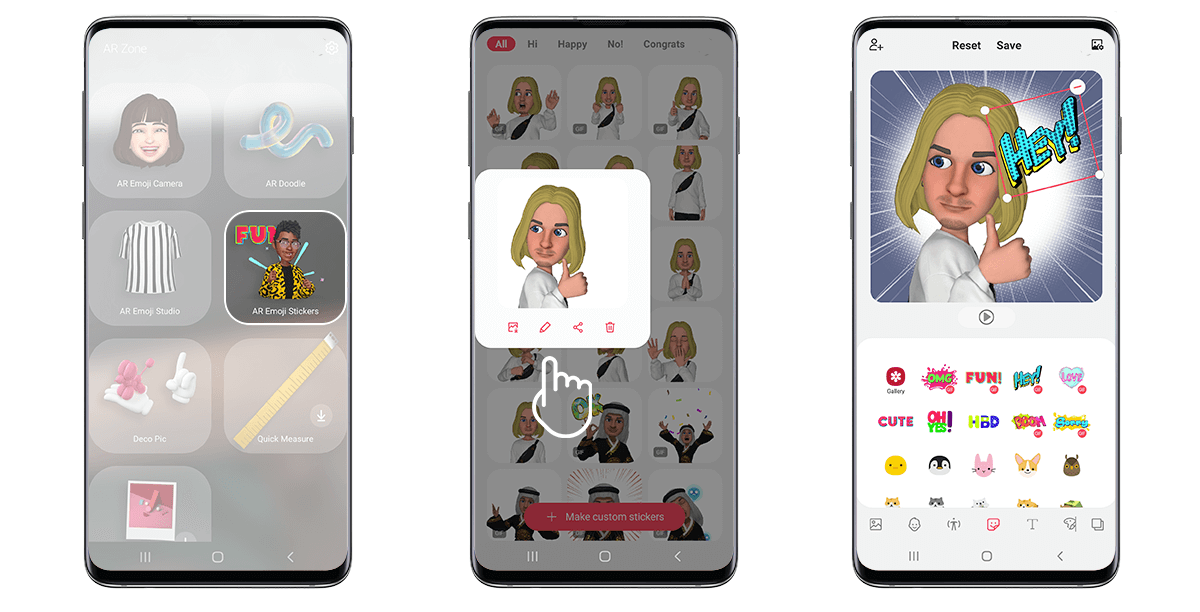 You can drop in a word bubble or shape, then move it, rotate it, and change its size. You can also zoom in on your AR Emoji and turn him or her to look in different directions. Use your custom stickers in messages and on social media!
Photos and Videos of Your AR Emoji
Your Samsung AR Emoji can be used in your pics and videos too. When you're in your Camera app, click More, then AR Zone, then AR Emoji Camera. Then, pick an AR Emoji and a mode. Your phone might have:
Mirror: Your avatar imitates your movements
Scene: Your avatar imitates your facial expressions.
Play: Let your avatar run through an area you make
Mask: Your avatar's face covers your own
Change Your AR Emoji's Clothes
Your AR Emoji can wear as many different outfits as you do! You can give him or her stylish sneakers, hoodies, sweatpants, jeans, tank tops, suits, skirts, t-shirts, yoga pants, jackets, and so much more. You can even try armor, cowboy clothes, wizard robes, and others.
Plus, you can get brands and logos like Champion, Wonder Woman, Batman, Care Bears, and Coca-Cola. A lot of options are on the Tafi Store. Choose from one of the three categories: Womens, Mens, or Juniors. You can search and shop by Top Sellers, All, or clothing types like Tops, Shoes, or Outfits. Make your Samsung AR Emoji just the way you want it. Shop now, and let your creativity go wild.