AR (augmented reality) lets you add objects and characters to reality. That means you put your own spin on what is really there in pictures and videos.
What is the AR Zone from Samsung? It's where all your AR tricks are stored. You can take a video in your house or somewhere outside and add your own character walking around. Add your own virtual drawings to real things or buildings. Turn your Samsung avatar into stickers that tell your friends what your current mood is.
Before the AR Zone was created, you couldn't find all the avatar and emoji options in one place. The options within the Samsung AR Zone on your device can change depending on what Samsung model you have, but below are some of the features you might see on your Galaxy S10 and Galaxy Note 10.
AR Emoji Studio
A lot of what you can do in AR Zone from Samsung begins in the AR Emoji Studio. It all starts by making your own AR Emoji, which is your personal representative in the virtual world. You can make your Samsung avatar look like you or a different version of you.
You can customize your characters any way you want, with their own hair, clothes, accessories, and anything else. You can even change your height.

There are tons of types of clothes, like jackets, pants, shorts, skirts, shoes, vests, and more—so many cool options. You can also decorate or upgrade each piece, like adding a logo or picture to your shirt, changing the color of your pants, and so on.
AR Emoji Stickers
Turn your virtual character into any sort of emoji for self-expression you want. Do a facepalm, rub your chin, throw your arms up in the air, and tons more. Put "OMG" next to whatever you're doing, and of course a whole lot of other options for what you want to say. Use AR Emoji stickers on social media or in texts.
AR Emoji Camera
Once your Camera app is open and ready to take a picture, hit the More button to the right of Photo. Then, click AR Zone.
Click on AR Emoji Camera. After that, click on the + button to make your own emoji character, or you use one of the ones already there.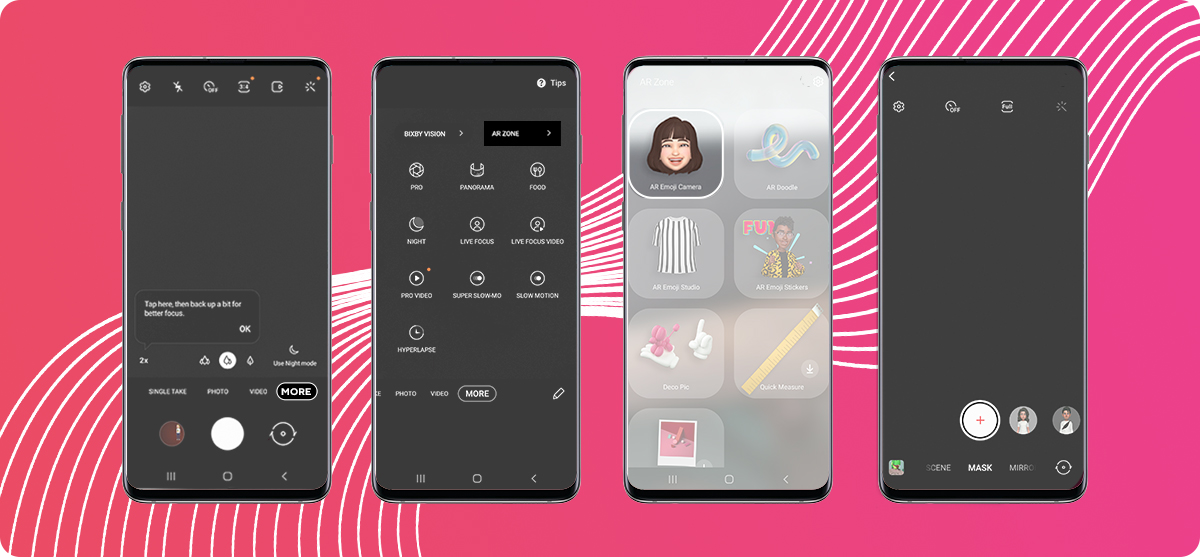 You can use these in videos or pictures in modes such as:

Mask:

Add your AR Emoji's face over your own! Take a picture or even record a video while wearing it. Freak out your friends!

Mirror:

Your AR Emoji character imitates whatever you are doing. You can even get your whole body on the screen and make your character dance or run or anything else.

Play:

Make your AR Emoji run out and play. Set the ground he or she will use, then draw a line where he or she will walk (or dance!). Shoot from different angles. You're the director!
AR Doodle
The AR Doodle feature lets you draw on the scene you're shooting. You can draw, for example, on your own face or above your head, and it will move around with you while you take a video. It remembers where it is in space.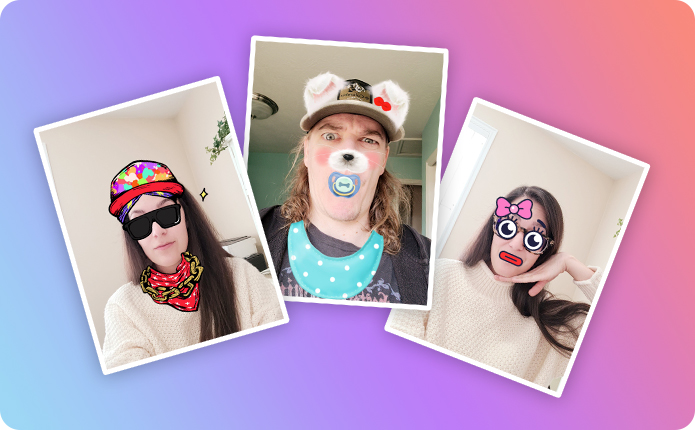 Deco Pic
You can add GIFs, frames, stickers, and stamps onto any picture or video with the Deco Pic feature. Put a bow onto someone's head. A frame around a couple. Glasses on someone's face. There are a bunch of options already on your phone, and you can download more by choosing the + option in this feature.
Quick Measure
This part of the AR Zone lets you measure objects and even people in real life. No one carries around a measuring tape… but as a Samsung user, you can use your phone to find out how tall someone is, how long a table or couch is, and so on.
3D Scanner
Click on the 3D Scanner option to open this feature, then select either "Thing" or "Person." Next, you'll walk your camera around what you want a rendering of to make a three-dimensional model in your phone. You can even use the "Add to Map" option to put a past scanned object onto the screen and let it move with the person you're videoing.
Most people don't know all you can do in the Samsung AR Zone. Impress your friends with cool phone tricks using these tools. And to have the best AR Emoji around, visit the Tafi Store. We have so many more types of clothes and accessories for men, women, and kids. Check out the Tafi store often — new brands, outfits, and seasonal costumes are added constantly.